Crypto
Learn To Capitalise On DeFi.
The Highest Yielding Investment We Have Ever Seen!
Check out our 8-part introduction to DeFi series
JOIN THE 10% CLUB
Learn how to capitalise on DeFi protocols and take your cryptocurrency portfolio to the next level.
Educate yourself using the knowledge of experts and avoid making the common mistakes.
APR

500%+

Strategies

20+

Weeks

6
Master your understanding of DefI
Welcome to the exciting world of DeFi, where the rewards can be great, but the learning curve can be steep. To create a successful DeFi portfolio, you need to first build a solid understanding of the industry and gain the skills and tools required to set it up correctly. Fortunately, our comprehensive course is designed to help you master the art of DeFi, even if you're a novice. Our step-by-step guides and easy-to-follow instructions will provide you with the educational backing you need to succeed in this complex industry.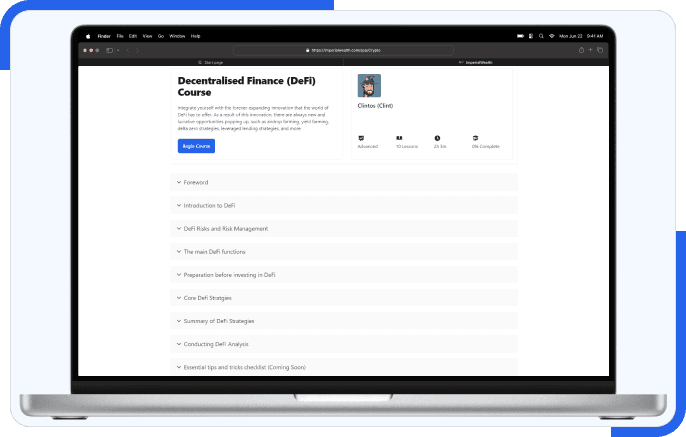 Join our exclusive live DeFi AMA's
One of the ways we support our students is through our exclusive AMA (Ask Me Anything) sessions. Led by our team of seasoned experts, these sessions provide invaluable insights into the DeFi ecosystem, including specific investments they are making, industry trends, protocols, and upcoming airdrops. Our AMA's take place on the Zoom platform, allowing for an interactive and engaging experience for all participants. By attending these sessions, you'll gain access to insider knowledge and stay up-to-date with the latest developments in the DeFi space.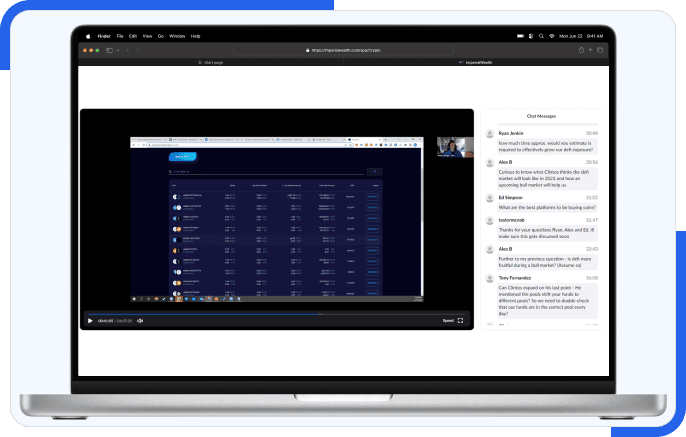 Achieve results you have never seen before
Welcome to the world of DeFi, where the old adage, "if it's too good to be true, it probably is," doesn't always apply. In fact, DeFi can offer some of the highest-yielding opportunities available in any financial market. It's not uncommon to earn 50-200% interest on your DeFi positions, and sometimes, the returns can be as high as 1000%. However, to take advantage of these amazing opportunities, you need the necessary skills to navigate the complex world of DeFi. Our course is designed to equip you with the knowledge and tools needed to succeed in this space. Imagine being able to earn significant returns on your DeFi investments - it's not a pipe dream, it's a reality that you can achieve with the right education and guidance. So why wait? Enroll in our course today and start exploring the lucrative world of DeFi. You too can unlock these amazing opportunities and build a successful DeFi portfolio!
Our Teaching
Philosophy
Our Students learn to make money while making money. Once you are inside, we'll immediately focus on making you earn your first profits as soon as possible.
The Prefect Account Manager!
The best thing about Imperial Wealth is the Account Manager that you are assigned. You are able to ask them any questions when you are unsure. If this is something you are looking for, then I strongly recommend Imperial Wealth Crypto.
---
Danni
Professional & Accessible!
Everyone that I have dealt with at Imperial Wealth have been very professional, but also very accessible which is so important. I would have no hesitation recommending the Trading Academy or the DeFi course to anyone.
---
Ryan

Imperial wealth DeFi trading application form
Successful applicants will receive 50% off the course!
Lifetime Membership
What's Included
Frequently Asked Questions
Open A Live Trading Account In Under 5 Minutes
Trade Cryptocurrency and derivatives with 24/5 expert support. Access a large array of cryptocurrency markets with all the tools you need to make decisions.