Betting
Dominate
The Global Sports Betting Markets
Make money on the exchange with multiple sports trading methods from an array of sports, including Basketball, Tennis, Soccer & Cricket.
Welcome To
The Sports Trader!
This course is designed for those who are wanting to take their betting investments up a level to a riskier, but much more scalable approach. Here we will teach you how to become a profitable sports trader. Learn how to trade on multiple sports with the right methodology for success
Methods

20+

Weeks Of Content

7+

Lessons

200
Testimonial
I wish I found out about this 10 years ago!
---
Luke
★ ★ ★ ★ ★
CHECK OUT OUR
RESULTS

FROM USING THIS SYSTEM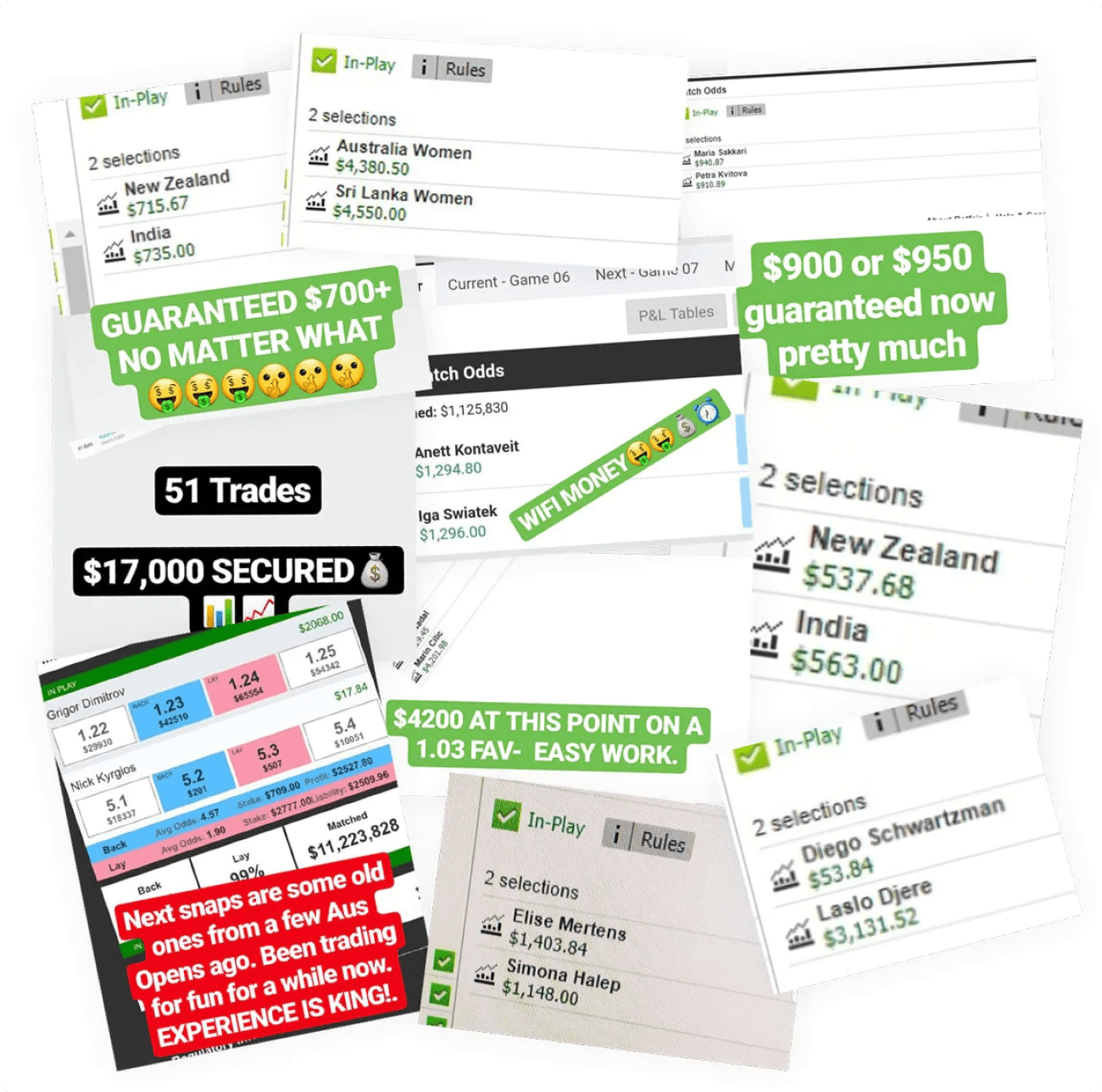 Are You Interested In Joining The Sports Trader Accelerator System?
Please Apply Below By Booking In A Time To Speak With Our Team
Plus All The
Free Resources
We know getting the best tips can be the difference between profit and loss. That is why we have a team full of betting analysts who are constantly researching the best bets to invest in.
We have over 10 calculators created by industry experts to help accelerate your journey and give you the IW edge.
We collate promotions from all Australian bookmakers daily for you to save you hours of time.
We know getting the best odds can be the difference between profit and loss. That why we created our odds comparison suite.
With so many leagues, teams and events on-going, it can be hard to keep track when a season ends and another starts. We've got you covered.
Want a taste of what's to come? Are you new to investing? We've developed a course just for you.
Each bookmaker is different, and knowing how the differ is key to long-term sustainability.
Frequently Asked Questions
We're Driven By
Client Success
I've been with IW for couple years and…
I've been with IW for couple years and its been the best investment ive made, making over 5 figures annually. The IW team and members are all really helpful and are one of the reason ive stayed long term even though I didn't contribute much in the team chat. Started off with elites course then ck sports and racing. On the middles course now and hopefully bigger things soon. Will be looking into 6 figures in the next 1-2 years. High recommend!
Justin

Still have questions? Let's chat!
We're here for you.